Under the watchful eye of proprietor and host Michael O'Gorman, each visitor to "The Monks" public house, exercises his or her talent, by singing, dancing, storytelling, lilting or playing an instrument. The aforementioned arts have far from diminished here in Thurles, Co Tipperary.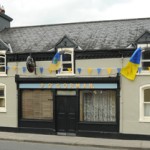 "The ricks are thatched, the harvest saved, long nights are here again.
The year t'was good, but now 'tis time, to hear those ballad men.
Boul in, boul in and take your stool, admission here is free.
Sure you're welcome to O'Gorman's Pub to hear the Seanchai."
Click to learn more about "The Monk O'Gorman's Pub," situated in Mitchel Street, Thurles, Co.Tipperary.