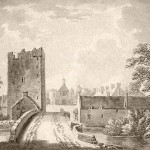 The Bridge Castle in Thurles is situated on the banks of the river Suir. This medieval castle dates back to 1453 during the Norman period in Irish history.
It is strategically located on the east side of Thurles and still dominates the town's skyline today.
Click to view our full history of the Bridge Castle Thurles.