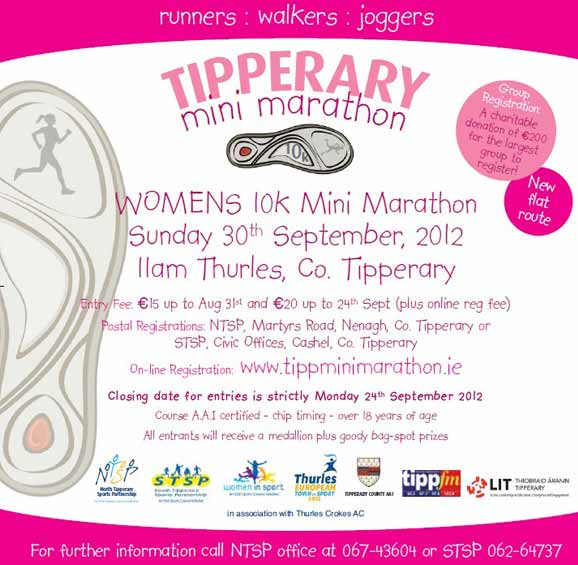 The Tipperary 10k Mini-marathon takes place this year in Thurles on September 30th 2012.
(Click on image for full enlargement of poster.)
North Tipperary Sports Partnership and South Tipperary Sports Partnership are delighted to announce that the Tipperary Women's Mini Marathon returns this year to Thurles, latter designated European Town of Sport 2012.
Now in its third year this annual 10k Mini Marathon is open to walkers, runners and joggers of all physical abilities and mobilities, so why not take the opportunity to get involved, by taking an active part.
Tipperary Sports Partnership have devised a new route around Thurles, for this years event, which they claim is "Fair, very flat and which will showcase the Cathedral town as much as is possible, to all visitors & participants."
Registration this year can be accessed both online and / or via postal contact.  An added incentive this year is that the Tipperary Sports Partnership will be making a charitable donation of €200 to the largest group to register, which will go to that group's charity of choice.
Check out www.tippminimarathon.ie for details of your local Meet and Train group, also where you can train for this event with others in what promises to be a fun and supportive environment.
Registration: Now open on line Here