Matthew 11:V28, "Come unto me, all ye that labour and are heavy laden, and I will give you rest."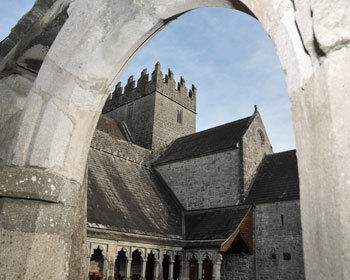 Such continues to be the welcome invitation, extended to all who attend the annual Holycross Novena, which begins tomorrow (September 8th) and will continue until Sunday September 16th, at the historic Holycross Abbey, Holycross, Thurles, Co Tipperary.
The event will see clergy / preachers arrive from all over Ireland, together with some 65,000 pilgrims from both home and abroad, who will attend this event, many seeking guidance or assistance through prayer, through reflection and relaxation. Many pilgrims will be seeking answers to problems being experienced in their troubled lives during these difficult times, not just in Ireland but worldwide. Many more will return to give their thanks, but all will enjoy a social side, meeting up a year later to chat and interact through past friendships.
Devotions and Mass will take place at:- 7:00am, 10:30am, 4:30pm, 7:30pm and 9:30pm each weekday, with devotions on Sunday 9th taking place at 7:00am, 10:30am, 12:30pm, 2:30pm, 7:30pm and 9:30pm. There will be no 12:30pm devotions on Sunday 16th, while an Anointing of the Sick ceremony will take place on Saturday September 15th at 2:00pm and a Special Mass for Youth will take place on Saturday 15th at 7:30pm.
Note: A Blessing of Infants will be held on Sunday 16th at 2:30pm, and of course confessions will be heard before, during and after each session of this Novena, with the exception of Sunday.