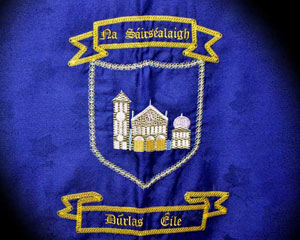 The third Thurles Sarsfields International Hurling Festival to be held on Munster hurling final week-end, July 12th and 13th, was officially launched by the Minister of State for Sport and Tourism, Alan Kelly TD at Sarsfields Social Centre, Thurles, on Friday night, May 31st last.
Glamour has been added to the Tipperary International Hurling Festival with the addition of eight Camogie teams competing for the Helen O'Mara Cup donated by the Thurles Camogie Club in memory of Helen. Helen was a dedicated camogie player from Kilkenny who was club treasurer for many years and a long serving committee member. It is indeed fitting therefore, that our first ever camogie tournament is honoured by her name.
The competing teams are – Indianapolis USA, Na Piarsaig Cork, Kildangan and Roscrea Tipperary, Patrickswell Limerick, Lixnaw Kerry, Feakle/Broadford Clare, and Portlaw Waterford. All are very welcome.
The games will be played in the grounds of St Patrick's Third level College of Education Thurles, by kind permission of Very Rev Tom Fogarty, College President.
The Cork Connection
There is nearly always a Cork presence in Thurles on Munster Final weekend. Combined with our festival there is great representation, hurling from Kilbrin, home of current Cork Senior star William Egan, and former Cork hurler Jack Field. It will be a Cork take over on Friday night with the road bowling. Saturday will see the biggest GAA club in the North city side, Na Piarsaig, playing Camogie, and as always expecting to win.
North Kerry Hurling
Hurling is endemic in North Kerry. We had Kilmoyley last year who were in hard luck not to take the title, this year we have Ballyduff and Causeway for the Tom Semple Cup and Lixnaw for the Camogie. A Kerry presence on Munster Final Weekend very much adds to the occasion.
Mayo In Force
Hurling Officer, Adrian Hessian, loves his hurling and is bringing two teams from Mayo, Tureen, current Carew Cup Holders, and Castlebar who are trained by Gerry Lane (Noel's brother) who caused Tipp many headaches in the eighties. Westport are the Michael Cusack Cup Road Bowling holders. There is a strong Mayo presence in Thurles, John Moroney's wife Maureen is a great Mayo woman and Ger O'Hagen is current Chairman of Thurles Sarsfields Ladies football. It was his home club that sold hurleys to Toureen in the fifties to start hurling in that parish.
The Dub's Are Coming
Under Kevin Broderick, Raheeney Hurling Club are making history, they are coming to Thurles for the first time for our Munster Final weekend festival. They will join Setanta, the all Irish speaking team, for an assault on the Tom Semple Cup. They are both in serious training for the competition and both expect to win.
The Social Side
With twenty four hurling and Camogie teams from all over, the scene is set for a very pleasant weekend. We are also expecting Thurles people from home and abroad to gather in numbers to be part of the Thurles Sarsfields "Gathering weekend." There will be a great mix of people from the four provinces, The USA, Great Brittan and our own Diaspora.
The Monks are playing in Sarsfield's Social Centre on Friday night and Silver Dollar is centre stage on Saturday night. The Sarsfields pubs in town are putting on musical entertainment that will be appropriate for the occasion. A friendly mix of hurling, camogie, camán abú and road bowling will be on display. All are welcome to our Festival which promises great entertainment and above all a great sporting weekend.
So Camán Home for the Hurling.