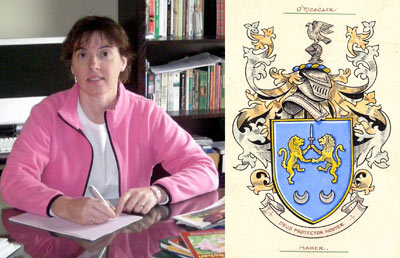 Over a twenty-two year period, Gabrielle Ní Mheachair has researched and recently published a detailed history of the Maher/Meagher/ O'Meachair Clan, thus providing for the very first time a well researched history of the Clan. Same publication now provides a valuable asset to any library and more importantly a convenient research tool for any person wishing to research the Maher Clan.
"Ó Meachair -The Story of a Clan" is the most thorough history of the Maher/Meagher Clan possibly ever written. Appreciate the role your Maher/Meagher ancestors played in all the major events of Irish history from the coming of the Celts to National Independence in 1922.
This book is not only a history of the Maher/Meagher Clan but also a simple history of Ireland written for an audience versed or unversed in Irish History.
Gabrielle Ní Mheachair – The Author
Author Gabrielle Ní Mheachair spent the first twenty years of her life residing on a rural farm just outside Templemore, Co. Tipperary, here in Ireland. After four years of teaching in Co. Donegal, she travelled to the United States on an adventure that has kept her resident there ever since.
A renowned historian, folklorist and genealogist, Gabrielle is also the author of several children's books in the Irish language, together with three genealogical works and is a former columnist for the Mid West Irish Focus, Jefferson City, Missouri; latter which focuses primarily on Irish-Americans in Missouri, Kansas, Nebraska, Iowa, Minnesota, Illinois, Arkansas and Oklahoma. She lectures and writes for various genealogical organizations and historical journals throughout the United States and currently resides with her husband and three children in Saint Louis, Missouri. The Tipp FM, Arts and Entertainment Award, was awarded to Gabrielle in 2009, for her valuable contribution to the arts through her various writings.
Irish authors, like Gabrielle, spent years of their lives researching history at tremendous personal expense. They invest thousands of Euros into the travel, research, and self-publication of their works for the benefit of future generations, knowing they can never ever recoup their expenditure. As a result, they rely on the help of our historical societies to promote their work, not for profit, but for educational value and for posterity.
This book is a 'must have,' for anyone who bears the Maher/Meagher name.