Large numbers of visitors are expected to converge on Thurles for this year's 'Thurlessportsfest' which will lumber up on Friday July 1st 2016; beginning at 11.00 am and continuing until July 10th 2016 inc.
The Thurles Sports Festival Committee would like to take this opportunity to thank, in particular, Tipperary County Council, LIT, Thurles Chamber of Commerce, Failte Ireland, Thurles Credit Union, The Anner Hotel, Tipperary Star and Tipp FM for their support of this 10 day festival event.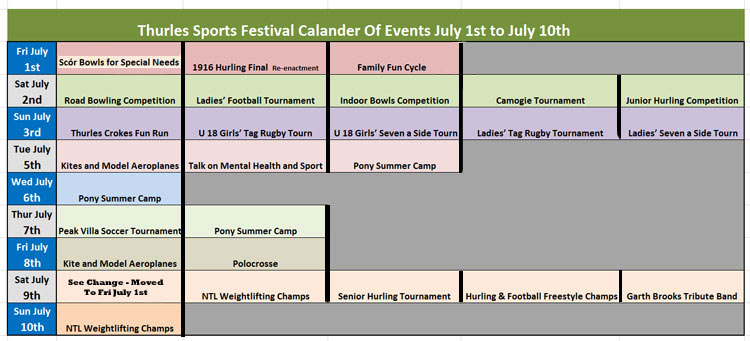 'Thurlessportsfest' will officially kicks off on Friday morning at 11.00am with a 'Scór Bowls for Special Needs' event. This official 'Indoor Target Bowling' competition, will compete for the coveted Olden Cup, together with associated individual medals for runner's up and winning team members.
At 6.30pm a 'Horse (or Pony) and Trap Parade', will be found heading in the direction of 'Semple's Field', to the nearby Thurles Sarsfields Pitch, for possibly the most historic of this years super 10 days of sporting events.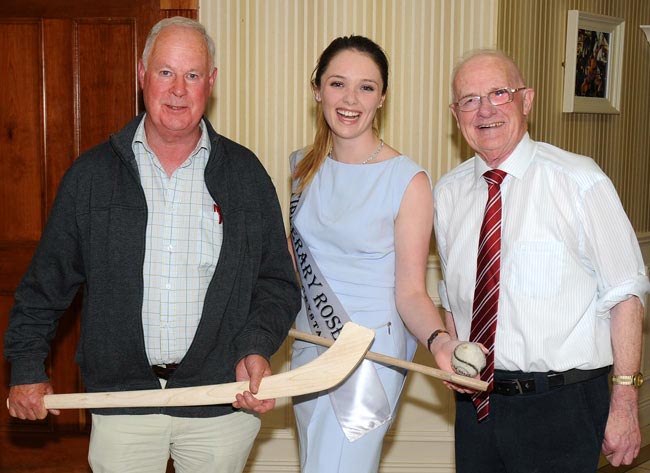 Picture shows – Mr Liam O'Donoghue (Lár Na Páirce), Miss Fiona O'Sullivan (Tipperary Rose of Tralee & Irish TV Presenter), Mr John Enright (Thurles Sarsfields and Thurles Sports Festival Member) examining the new specially designed 1916 style hurley's ahead of 'Thurlessportfest', July 1st – July 10th next. (Photo G.Willoughby.)
This historic parade on Friday evening will culminate with a 1916 'Hurling Final Re-enactment', match, beginning at 7.30pm sharp in the Sarsfield's Pitch, and same will be an admission free spectator event for all comers. The two teams taking part in this re-enactment will be Tullaroan (Representing the Premier Counties oldest rivals, Co. Kilkenny), playing Boherlahan (Representing the honour of our own Co. Tipperary).
Meanwhile a 'Family Fun Cycle', will also be taking place at 7.00pm in association with Upperchurch-Drombane Cycling Club. This event will be a 10k cycle race through parts of Thurles town and out into the countryside, with all competitor standards welcome to participate regardless.